Information from Career Support Center
Lunch Mixer for International Students in June:
This casual event is for international students who are interested in working in Japan.
The theme for the June sessions is "Internship".

To register, please visit NU-NAVI on the Career Support Center website. Exchange students and research students may also attend this event. Students who do not have a Meidai ID should contact the following inquiry directly. Please feel free to come alone or with a friend.
Application:Career Support Center HP( https://syusyoku.jimu.nagoya-u.ac.jp/)→NU-NAVI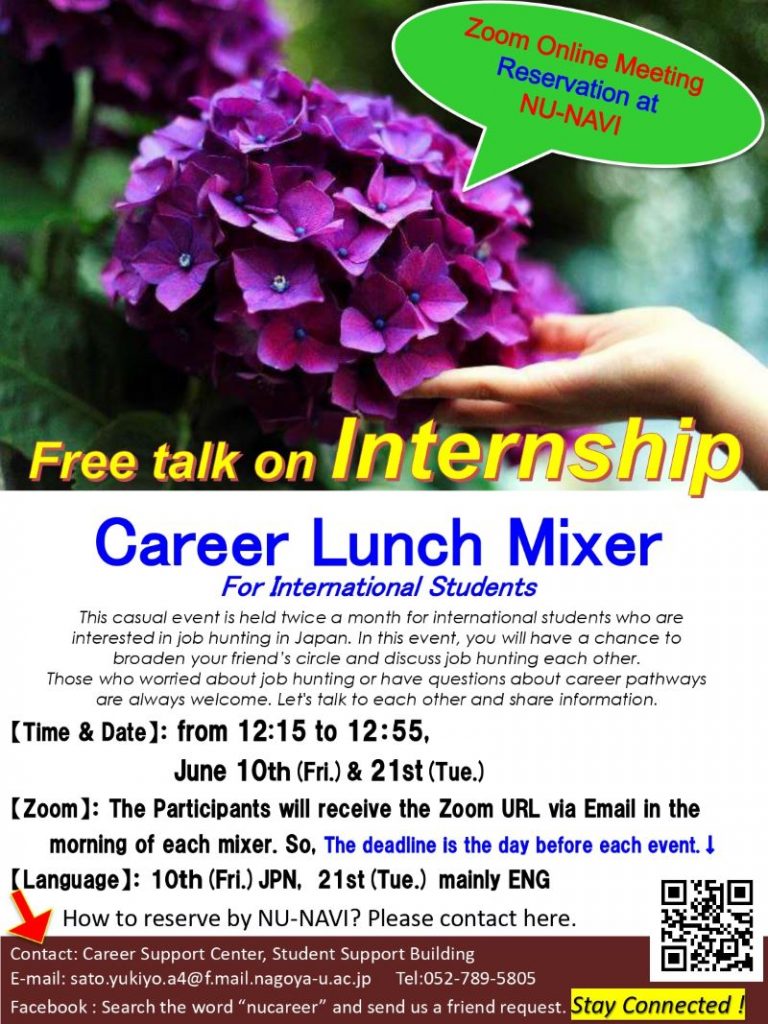 キャリアサポートセンターより、キャリアランチ交流会のお知らせ
この交流会は、日本での就職に関心のある国際学生のために開催されます。
6月は「インターンシップ」です。
交換留学生、研究生等の参加も可能です。
予約はキャリアサポートセンターHP上のNU-NAVIからお願いします()。
名大IDを持っていない学生は直接下記問合せまでご連絡ください。
お一人でも、友達と一緒でも構いませんので、気軽にご利用ください。
予約:キャリアサポートセンターHP( https://syusyoku.jimu.nagoya-u.ac.jp/)→NU-NAVI
主催: 名古屋大学キャリアサポートセンター
連絡先:名古屋大学キャリアサポートセンター
e-mail: sato.yukiyo.a4@f.mail.nagoya-u.ac.jp
TEL:   052-789-5805
Facebook https://www.facebook.com/nucareer