Event Information from Career Support Office
Career Lunch Mixer "Let's listen to Sempai'sjob hunting" (Japanese follows English)
This casual event is for international students who are interested in job-hunting in Japan.
_When did you start job hunting?
_How many companies did you apply to?
_Should I participate in an internship?
_What was the hardest part of job hunting?
_How did you gather information?
In addition, other topics such as career-related concerns and problems are also welcome to talk. Individual consultations will be available after the session.
-How to attend;
1. Online(ZOOM): The participants will receive the URL via Email in the morning.
2. In person: The Meeting Rm, 3rd Fl., The Student Support Bldg.
-Application;
Career Support Center HP( https://syusyoku.jimu.nagoya-u.ac.jp/)→NU-NAVI
-Apply before;
17:00 the day before the each event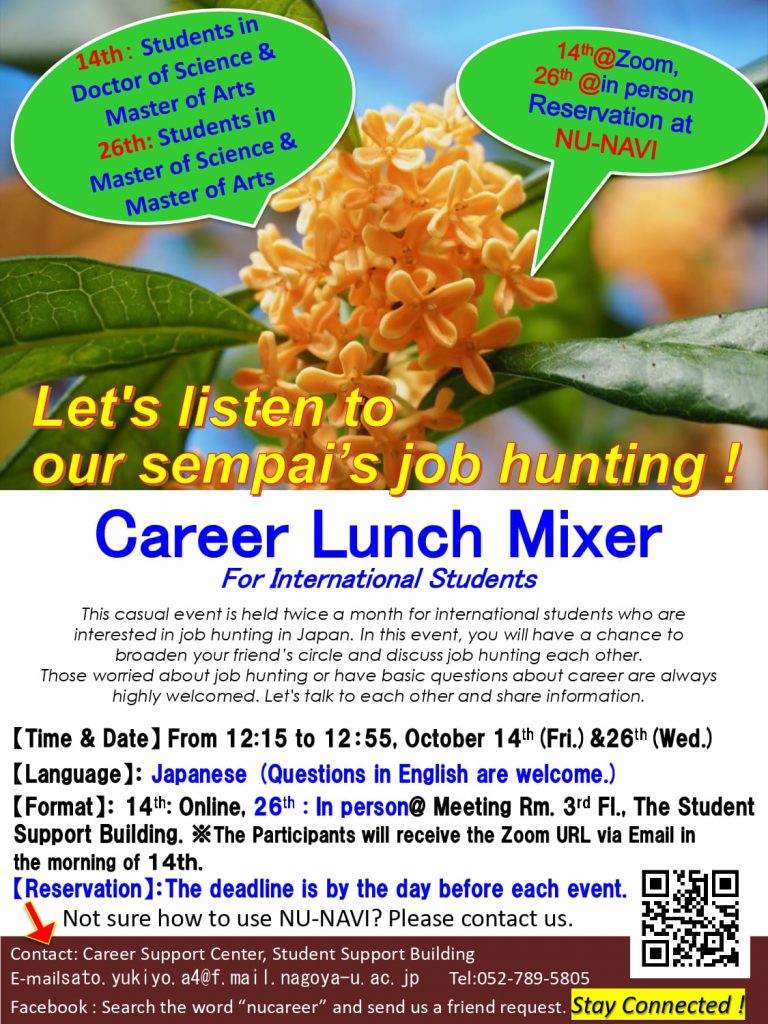 キャリアサポートセンターより、イベントのお知らせ
■キャリアランチ交流会  先輩のシューカツを聞こう!
・先輩はいつシューカツを始めましたか?
・何社くらい受けましたか?
・インターンシップは行った方がいいですか?
・シューカツで大変だったことは?
・どうやって情報を集めましたか?
そのほか、キャリアに関する悩みや困りごとなど他の話題もOKです。終了後は個別の相談も可能です。
【開催場所】
①オンライン・Zoom URLを、14日の朝に参加登録者へメールで送ります。
②対面・学生支援棟 3階会議室
【申込方法】
NU-NAVI(支援行事の参加予約)より申込みが可能です。
NU-NAVIへログイン後、「支援行事の参加予約」よりお申し込みください。
【申込期限】
各回開催日前日の17時まで