Information from Career Support Center
Lunch Mixer for International Students in September:
This casual event is held twice a month for international students who are interested in job hunting in Japan.
The theme for the September sessions is "Let's talk with graduates working at companies".
To register, please visit NU-NAVI on the Career Support Center website.
Please feel free to come alone or with a friend.
Application:Career Support Center HP( https://syusyoku.jimu.nagoya-u.ac.jp/)→NU-NAVI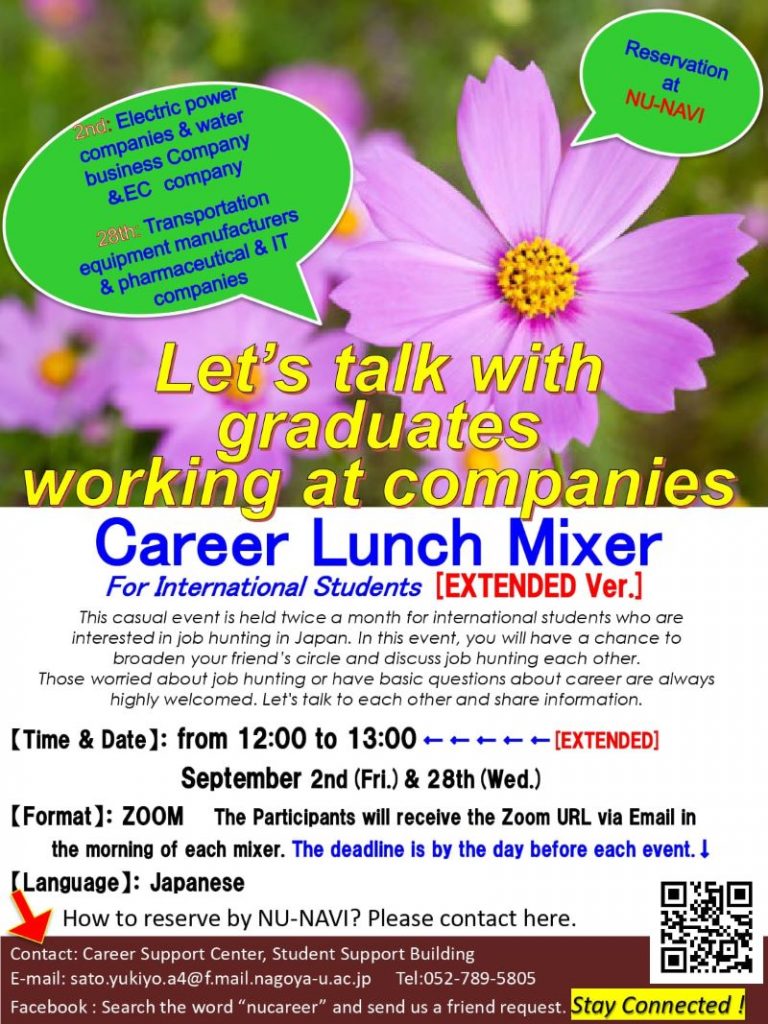 キャリアサポートセンターより、キャリアランチ交流会のお知らせ
この交流会は、日本での就職に関心のある国際学生のために開催されます。
9月のテーマは「企業で働くOBと話そう!」です。
予約はキャリアサポートセンターHP上のNU-NAVIからお願いします。
お一人でも、友達と一緒でも構いませんので、気軽にご利用ください。
予約:キャリアサポートセンターHP( https://syusyoku.jimu.nagoya-u.ac.jp/)→NU-NAVI
主催: 名古屋大学キャリアサポートセンター
連絡先:名古屋大学キャリアサポートセンター
e-mail: sato.yukiyo.a4@f.mail.nagoya-u.ac.jp
TEL:   052-789-5805
Facebook https://www.facebook.com/nucareer